The World Belongs to the Leader
Designed, developed and built exclusively by Charles St. George
The

Leader 50 A1

is the lightest and most compact semi-automatic .50 BMG rifle in the world — a winner of the Blue Book of Gun Values Top Ten Awards for Innovation and Excellence in firearms and related accessories

(Click images to enlarge)
Investment Opportunity
Due to the international demand for light-weight ammunition there are currently 3 companies making polymer-cased .50 BMG ammunition but without a light-weight .50 caliber weapon to match.
St. George Arms' award-winning LEADER 50 A1 is still the only rifle which fulfills that requirement (sales inquiries to date exceed $5,000,000)
Qualified investors interested in this unique opportunity to put the LEADER 50 A1 into full production — and the development of a light-weight .50 BMG squad automatic weapon — please email [email protected] for more information.
Watch this space . . . news coming soon!

 Specifications:
• Lightest and most compact semi-automatic .50 BMG rifle in the world
• Type: Bullpup, semi-automatic rifle
• Action: Gas-operated (long-stroke piston), rotating bolt (Triangular)
• Weight (empty): 18.5 lb (8.39 kg)
• Barrel Length: 24 in (609 mm)
• Overall Length: 39.5 in (1,003 mm)
• Magazine: 10-round detachable box
• Firing pin safety (renders out-of-battery ignition impossible)
• Manual safety can be engaged at any time (cocked or uncocked)
• AR-15-pattern pistol grip and safety lever
• Left-handed version available
• MSRP: $8,200 + shipping and insurance
Gas vs. Recoil
The award-winning Leader 50 A1 is lighter in weight and more accurate than competing recoil-operated designs due, in part, to its gas operation and fixed barrel. This eliminates the need for a heavy forged or machined steel receiver to support the recoiling barrel. The action stops at the midpoint of the receiver against the barrel extension, so no spring or hydraulic recoil buffer is necessary.
The straight-line construction and action springs positioned forward and below the centerline of the bore ensure that the muzzle does not climb. These features, together with an efficient muzzle brake, keep felt recoil to a minimum.
Selecting recoil to operate a modern, man-portable, magazine-fed .50 BMG rifle is antiquated. These rifles with moving barrels are obsolete regarding weight, inherent accuracy, and cost of manufacture — which is reflected in the high retail price.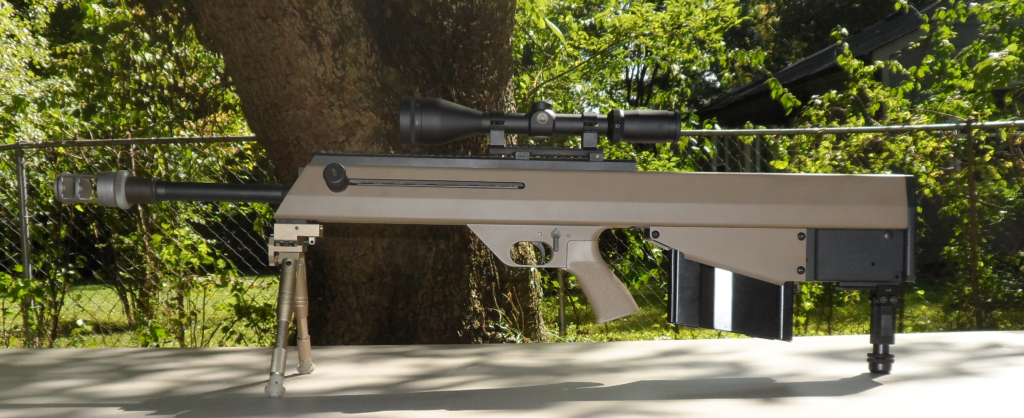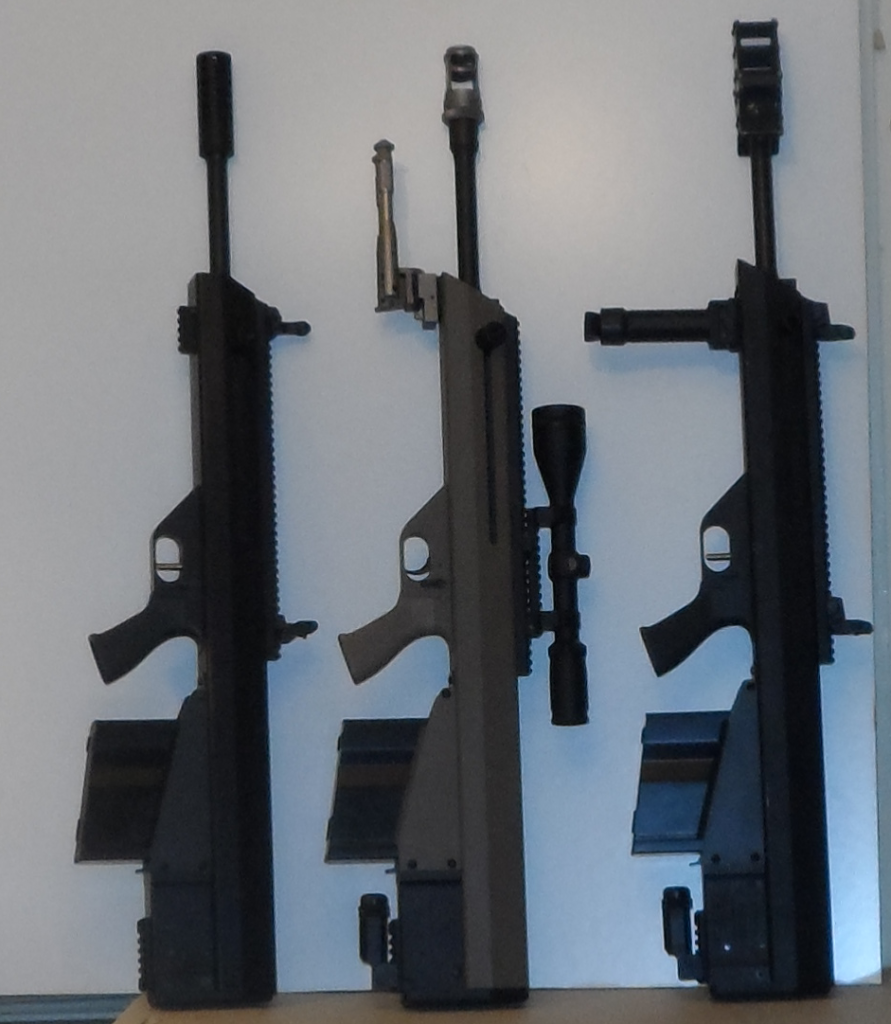 ---
 Please email all inquiries to St George Arms at:
---
Press:
Read Pierangelo Tendas' article on all4shooters.com 
Oleg Volk's article about the Leader 50 A1 on AllOutdoor.com
---
No tours available.
 All sales are final.
Please inquire about deliveries.
Any delivery date or time provided is an estimate based on current production schedules and is not a guarantee. Many factors may delay production and, thus, delivery, as the Leader 50 A1 is built to order.
You can find St George Arms on Facebook at: St George Arms
St George Arms reserves the right to change the specifications of its firearms, and the content of this Web site, at any time.
No sales to California. It is your responsibility as the buyer to ensure that this rifle is legal to own in your state of residence.
© 2013—2019 St George Arms
All Rights Reserved